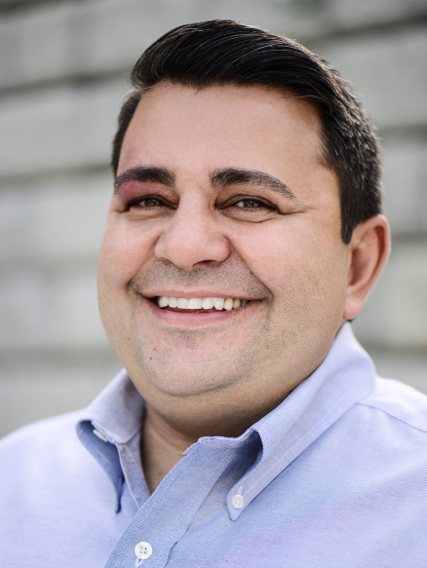 Jamie started his real estate career in 2009 and has quickly become one of the top producing real estate agents in his beloved Dorchester MA (DOT). Prior to his real estate career Jamie worked in HR and Operations Management for UPS as well as a Boston start-up [...]
Jamie started his real estate career in 2009 and has quickly become one of the top producing real estate agents in his beloved Dorchester MA (DOT). Prior to his real estate career Jamie worked in HR and Operations Management for UPS as well as a Boston start-up company.
Jamie moved to Dorchester in 1995 and quite simply fell in love. He has worked in and volunteered his time to the community for nearly three decades, which has given him extensive knowledge of DOT. This deep-rooted connection to the community has been beneficial to Jamie as the Dorchester market has become one of the hottest in the Greater Boston area. DOT IS HOT!

In 2014 Jamie, and his business partner, Nadine Fallon, founded Great Spaces Real Estate. Great Spaces has quickly become a trusted name in the DOT real estate market and earned the number one sales agency in Dorchester for 2017.

Located at 1281 Dorchester Ave, in the heart of Dorchester, Great Spaces Real Estate now has numerous real estate agents to serve your every real estate need! Just like Jamie, the Great Spaces agents live in, work in, and volunteer their time in DOT, so you know you're getting the very best when you begin your real estate journey! If you are looking to buy, sell, or rent give Jamie a call today and you will be in your very own GREAT SPACE in Dorchester, or the Greater Boston area, tomorrow!
Office Location
1281 Dorchester Ave
Dorchester, MA 02122
Specifications
Languages:
Specialties:
Service Area:
Jamie's Testimonials
Jamie has been my go-to Real Estate Professional for multiple transactions over the past few years. A few years ago, Jamie helped me sell my condo in Dorchester (for top dollar) when the market was terrible. I wanted to take my time to decide on a new place to buy, so Jamie found me an ideal rental situation while I looked. All the while, he kept his eyes open to find me a new permanent home. When I finally did decide to move again, Jamie helped me find the absolute perfect place for [...]
CHRISTOPHER MAGUIRE DMD – BOSTON, MA
Jamie was my broker on an extremely complicated sale in Dorchester that lasted almost 14 months. We spent several weeks looking at different properties and finally agreed to put in an offer on one we loved. I was a first time buyer so the process and terminology were all new to me. Jamie researched excellent comps, found me a good home inspector and guided me through the process patiently – reassuring me when necessary. Ultimately the house ended up on the market as a short sale which [...]
TREVOR NARDINI – DORCHESTER MA
I have worked with Jamie in both a sale of a condo and a purchase of one. In both instances he was professional, friendly and went above and beyond what others might do. In my recent purchase, which was a foreclosure, he not only did what was required on my part, but basically did all the foot work for the bank's agent, going so far as to visit the condo's trustee numerous times when he was unable to reach him by phone or email. Jamie makes the process enjoyable and fun. I would [...]
STACEY STEPHENS – DORCHESTER, MA
Jamie made us feel like we were his only clients. He was extremely responsive, made sure we were aware of every step of the process and went out of his way to be available to make sure everything was completed for the sale. He was also very knowledgeable about the market – getting us over our asking price!
LISA G – BOSTON, MA
Jamie has been a friend and agent for many years. He has helped me through 6 transactions so far (buying and selling), including a complicated 1031 Exchange involving 3 properties. I have always felt that Jamie's approach is meticulous, honest, pragmatic and versatile. Across transactions, the styles of the agents on the other side, the circumstances and my own needs all varied. Jamie was quick to adapt his approach each time, while keeping me grounded in reality. What I value about [...]
STEVEN NIC – DORCHESTER, MA
Jamie was phenomenal and instrumental in representing us when we purchased an antique federal style home cir 1815. We were way out of our comfort zone but we absolutely loved the house and property. Jamie helped us put our emotions aside, were he put his expert negotiation skills to work. Once our offer was accepted Jamie identified a well respected home inspector that was fluent with antique homes, which put us even more at ease that we made the right decision. Without Jamie's [...]
JOHN GOMERSALL – BELLINGHAM, MA
We used Jamie Iacoi to sell our condo in Dorchester and he was fabulous. He really knows the market and was always accessible to us when we had questions or concerns. I would highly recommend using the agency and Jamie again in the future!
CATHERINE M – DORCHESTER, MA
Ours was a complicated situation – one that several other real estate agents didn't know how to tackle. Jamie took the time to figure out how to get the most from our property, then put his ideas into motion efficiently. He was pleasant and professional throughout the entire process, and made what could have been a long, tedious process quick and enjoyable. Thank you Jamie!
LINDA O – BOSTON, MA
Jamie Iacoi has my highest praise as a professional broker, I searched for a suitable condo in Boston for the past year. It was a very difficult market for buyers with bidding wars and over priced homes, I worked with three different brokers, Jamie was the best! He is professional , personal and truly cares about his clients! I was finallly able to buy the perfect home after much hard work by Jamie!
JIMMY G – BOSTON, MA
Jamie was a pleasure to work with. There can be no one better if you are looking to buy or sell in Dorchester! He is incredibly knowledgeable, a straight shooter, reliable, and a nice person.
AMY S – DORCHESTER, MA